---
The online performance film "Simplicity" celebrated its online premiere. It was created in the weekly video rehearsals of the europefiction group Hamm and Budapest. The exchange with their partner group in Budapest also took place intensively via video conference. The two groups worked on the topic simplicity and developed their first videos together. From this material, the two europefiction groups Hamm and Budapest created the online performance film "Simplicity".
The film is available on youtube: https://www.youtube.com/watch?v=mhnkagg1gmA
We are in the year 2050, nope 2024, well no 3849… or in a total different one? During a video call which connects time and space, a group of people from different possible future worlds finds an inconspicuous box. They open it, full of curiosity. With a big bang and at great speed, a time capsule unfolds. It contains moments of the lock down months of the Corona year 2020.
In a mix of fiction and documentation, the young people of the europefiction groups Hamm and Budapest show how to be together, share feelings and things despite the distance. In digital rehearsals, the young people artistically implemented their thoughts, ideas and visions of the current situation as an online performance film. "Shared Distance" is still on youtube: https://www.youtube.com/watch?v=BCmVi9vlKPc

Premiere: June 19th, 2020
---
In Café World, HELIOS Theater opened its stage regularly from 2016 to 2018. People of all ages were invited to tell stories, recite poems, or sing songs in any language, with or without translation, on the open stage of Café World. Texts and songs in a big variety of languages could be listened to, such as Fārsī, Arabic, German, Pashtun, English, French, and Low-German. The Children'sTheatreWorkshop developed scenes and moments and presented them to the audience of Café World.
---
A Piece of Mine
Transcultural theatre project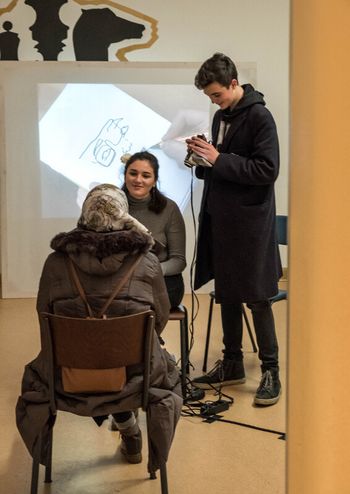 In the project "A Piece of Mine", HELIOS Theater followed the experiences of earlier projects and encounters with people with refugee biographies. A group of young theatre enthusiasts, created scenes and moments for the rooms of the Central Housing Facility for refugees (Zentrale Unterbringungseinrichtung für Flüchtlinge, ZUE). The idea was to create a setting for active, aesthetic moments of face-to-face encounter with the inhabitants of the ZUE in Hamm. They experimented with different means from theatre, performing and visual art.
The performances took place on two evenings in November and December 2017.

The project was funded by the Ministry for Culture and Science of the Land NRW in the framework of the programme "Intercultural Impulses" of the "Landesbüro freie darstellende Künste e.V.".