Stay Together
europefiction group
You can find it in friendships and families, between states and religions: Solidarity. What is solidarity? What does it mean to us? When – and how? – does it occur?
The performers interrogate the concept "solidarity" in everyday life and world affairs. They examine it from all perspectives, from loud protesting against injustice to missing solidarity, tough anti- and shrill pseudo-solidarity on to silent standby.
Premiere: Friday,  28.06.2019
Performance together with the Hungarian partner group: Friday, 19.07.2019 on the europefiction summer camp
In Café World, HELIOS Theater has opened its regularly from December 2016. People of all ages were invited to tell stories, recite poems, or sing songs in any language, with or without translation, on the open stage of Café World. Texts and songs in a big variety of languages could be listened to, such as Fārsī, Arabic, German, Pashtun, English, French, and Low-German. The Children'sTheatreWorkshop developed scenes and moments and presented them to the audience of Café World.
A Piece of Mine
Transcultural theatre project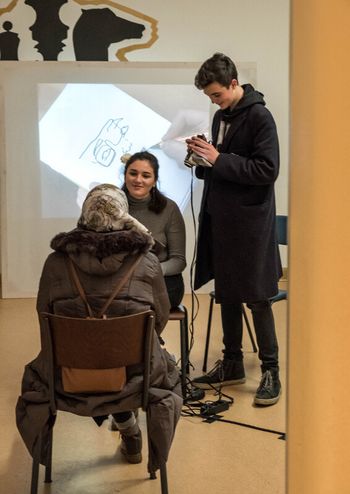 In the project "A Piece of Mine", HELIOS Theater followed the experiences of earlier projects and encounters with people with refugee biographies. A group of young theatre enthusiasts, created scenes and moments for the rooms of the Central Housing Facility for refugees (Zentrale Unterbringungseinrichtung für Flüchtlinge, ZUE). The idea was to create a setting for active, aesthetic moments of face-to-face encounter with the inhabitants of the ZUE in Hamm. They experimented with different means from theatre, performing and visual art.
The performances took place on two evenings in November and December 2017.

Direction: Vera Grugel and Tobias Kubern

The project was funded by the Ministry for Culture and Science of the Land NRW in the framework of the programme "Intercultural Impulses" of the "Landesbüro freie darstellende Künste e.V.".