History of the Theatre House
The HELIOS Theater moved from Cologne to Hamm in 1997. The ensemble followed the invitation of the City of Hamm to set up the first professional theatre in the city. An interesting challenge for an independent theatre company which had worked primarily as a touring theatre from Cologne. The desire for and interest in conceptional work and setting up structures for a theatre was big. In the beginning, the performances took place in a shared space in the "Bürgersaal", but soon the ensemble started looking for a long term solution.
After the first visit of the buildings of the former express mail station, it was obvious that this was the perfect place for the theatre. It was nice and well situated but old, wet and without any heating. Now the research for financial support for the reconstruction began.
Barbara Kölling and Michael Lurse from HELIOS Theater as the moving spirit along with a few individual supporters from DB and the City of Hamm planned together and found a funding in 1997: one of the last promoting programmes of the International Building Exhibition Emscherpark (IBA). The IBA worked for North Rhine-Westphalia and was instructed to reorganise disused industrial facilities. Seven years later, the DB finally gave their consent for the reconstruction.
Together with the participating architects a concept of reconstruction was followed that should preserve the old structure of the building with an emphasis on the old architectural features. At the same time it was important to keep in mind the functions of the house, being a theatre especially for children. Intensive investigations and a symposium about "Children Theatre Houses" in 2004 supported the conceptual work and the plans for the interior design.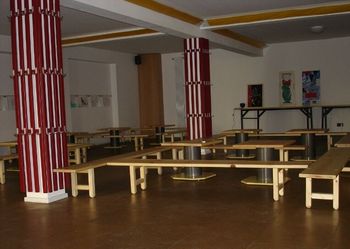 In September 2003 the reconstruction began. Due to the precise preorganisation and no big "surprises", the interior work didn't take longer than 12 months.
It can be indicated from many subtleties that the theatre house focuses on children and teenagers: There is the children's foyer on the ground floor. Up to 150 children can take a seat on wooden furniture before and after the performances. The furnishings have been made by a group of retired manual workers, created and built specially for the theatre. The complete furniture, including the cloak hooks and the counter, have been built in three different heights so that even three year old children are able to move independently, to hang up their jackets and to buy a ticket on their own. On the first floor there is another atmospherical room for workshops, rehearsals and discussions.
With a theatre ceremony from September 10th to 12th 2004, the HELIOS Theater's theatre house was officially opened.