Friedl Dicker
(working title)
for everybody 14+
Friedl Dicker was an artist: painter, graphic artist, stage designer, interior designer. She was a resistance fighter. She built sculptures out of metal, puppets out of wood, wove carpets and murals out of wool, painted pictures, designed and arranged rooms... She is considered one of the most talented and versatile students of the Bauhaus in Weimar and a pioneer of today's art therapy.

Born in Vienna in 1898, murdered in Auschwitz in 1944 - she died at the age of 46. She would almost have been forgotten - had it not been for two suitcases in the attic of the girls' home in the former Theresienstadt ghetto, two suitcases full of children's drawings...

Three performers, a director and a visual artist immerse themselves in the time of the Weimar Republic, the Golden Twenties, the Nazi era - and in the story of Friedl Dicker. They explore questions about Friedl's life and the time and develop a play for young people. In autumn, they give first insights in the production and the historical background.
PRE-PREMIERE: Saturday, October 30, 2021, 7:00 pm, HELIOS Theater
Ensemble
Play: Bahar Sadafi, Minju Kim, Josephine Raschke
Room & Stage: Krista Burger
Direction: Barbara Kölling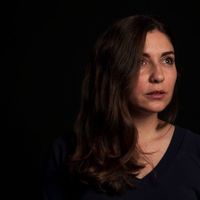 Sponsored by