Our House
for everybody 12+
Co-production with Ishyo Arts Centre (Kigali, Rwanda)
A house – my house. Our house? What is a house?
Two performers from Rwanda and three from Germany tell their own stories and those of others: about houses where people lived, that were abandoned, that were lost. In the English language, they share memories with each other and with their audience. Memories of houses morph into thoughts of home, identity and community.
Premieres: 17th September 2016, Hamm (DE) & 6th November 2016, Kigali (RW)
Ensemble
Acting: Eliane Umuhire, Helena Aljona Kühn, Hervé Kimenyi, Marko Werner, Michael Lurse
Live Music: Hervé Twahirwa
Composition: Roman D. Metzner, Hervé Twahirwa
Director: Carole Karemera, Barbara Kölling
Assistanc/Lines: Steffen Moor
Production partner
Ishyo Arts Centre (IAC) in Kigali/Rwanda.....
......is an arts & culture centre active in the fields of literature, music, fine arts and theatre for children, young adults and adults.
Founded in 2007 by a group of 8 women, it was the first and only arts centre in Ruanda's capital city Kigali. The Ishyo Arts Center has always been contributing in a plethora of ways to establishing an audience and to fostering a multitude of arts.
It focuses, among other things, on coming to terms with the genocide, in order to generate a new cultural beginning. Today, the Ishyo Arts Center has acquired nationwide fame and collaborates with universities and partners in the fields of arts and culture all throughout Africa.
Carole Karemera assumes the role of artistic director at the Ishyo Arts Center.
Documentation
In April 2017 the documentation of "Our House" got published. It is available as a printed german and english version in the HELIOS Theater.
The digital version can be viewed here.
Article
HELIOS Theater: Telling the Rwandan and German genocide story
published by Moses Opobo in "The New Times" December 20, 2015
As German nationals, Babara Kolling, Anna-Sophia Zimniak, Steffen Moor and Erpho Bell are well familiar with the subject of human cruelty and genocide.
Between 1941 and 1945, their country witnessed an explosion of human evil in which over six million Jews were killed by the Nazi regime of Adolf Hitler and some of its collaborators.
The killings took place both in Nazi Germany and German-occupied territories across Europe. Of the nine million Jews who had resided in Europe before the Holocaust, approximately two-thirds were killed.
It was not just the Jews that faced the brunt of Nazi crimes. Ethnic Poles, Romanis, Communists, Soviet Prisoners Of War, homosexuals, Jehovah's Witnesses and the mentally and physically infirm were also targeted, bringing the total death toll to about 11 million.
But Barbara, Anna, Steffen and Erpho are also aware of another more recent genocide –the 1994 Rwanda genocide against the Tutsi. It was the need to compare notes on the two countries' experiences that the four travelled to Rwanda recently under the auspices of HELIOS Theater, a German theater troupe.
HELIOS was founded 26 years ago in Cologne, Germany by a group of young people with different artistic skills -some musicians, some puppeteers, and some actors. Today, it is based in the German city of Hamm.
Working with the Ishyo Arts Center and a handful of local theater practitioners, the group has been in Rwanda for over a week, primarily to explore the subject of the two histories of the Rwandan and the German genocides with a view to creating a joint stage production on the subject.
Naturally, visits to a few genocide memorial centers around the country were top on their agenda, but they also took time off to visit key cultural and historical sites like the old king's palace in Nyanza to gather context.
"It was impressive to see at the memorial houses how concrete and serious you as a country take this memory of the bodies," explained Barbara Kolling, the head of the delegation and co-founder of HELIOS Theater.
"I must admit that this is something that I had never seen before, because in Germany it's different. The bodies were burnt using industrial gas so there were no bodies to see. What was left was usually a few clothes which you can see at some of the memorials in Germany."
After a long, dramatic pause, she adds:
"To go there and to just take it in is too much, but the question then is what to do with this too much?"
Kolling notes that while Germany and Rwanda share a similar tragic past, the two countries' experiences are quite different:
"One important point is that our genocide is over for seventy years now, meaning we are the next generation. This is a very big difference because here in Rwanda I've seen a lot of people who are living with the direct consequences of the genocide. I think that for an issue like this it's really only time that can heal some wounds. As the generation after, we have a little bit more distance to our own history as compared to Rwanda, and I think it's right to say that time will make something, and this gives hope."
If anything, the effect of their very first visit to a Rwandan genocide memorial site was anything but sobering.
"After the first visit to the memorial we were up on table speaking almost the whole night. We had a big discussion about staying here or going outside to eat, and it was clear that we were staying and staying and staying ..." Barbara continues:
"For about five hours everyone kept saying I think I need some time on my own ... I want to take a shower, I want to take a nap, and in the end we never left our table. It was like holding on to each other not to be alone," Anna –Sophia Zimniak interjects, before Barbara concludes:
"It is too much, so it's easy for one to even view it as a little bit too touristic and too graphic. This is easy to say, but what is the truth? The truth is that it was too much."
As a theater ensemble, HELIOS first came to Rwanda at the beginning of November, and staged their production of the play, Traces at the KINA Arts Festival. They came on the invitation of Carole Karemera, the founder of the Ishyo Arts Center and curator of the festival.
Two years earlier, Karemera had watched the group's production in Bologna and had been immediately impressed:
"After the show she came to me and said this was one of the few really interesting things she wanted to bring over to Rwanda. So it was her in a way, but me also, because I stayed in contact with her and she later invited us to come to the KINA Festival," Barbara explains.
"We also invited them to come to our festival, and it's at this point we knew we would like to do something together."
The success of Traces at the festival gave birth to the idea of memory, particularly in the context of the Rwandan and German genocides.

Custodians of memory
At the moment, the group is toying with the idea of "The House" as the name of the project.
"We thought a lot about the project's name – The House, and it all started from a picture of people standing in an empty house that has been taken down, and they try to remember how the house once looked, how the people in it lived, and this was the image that was the basis of the project," explains Anna Zimniak.
"It's something they talked about for a long time in different occasions, then the idea came to question memory and we agreed to do something together. We asked why can't a German Theater company and a Rwandan Theater company come together and do something jointly?," says Dida Nibagwire, a project manager and researcher at Ishyo Arts Center.
The Ishyo founder, Carole Karemera will be one of the directors for the play.
"Now we're hosting them because we're on that journey of research to know what we really want to do with the play and also to get to know each other as people and as countries to see our commonalities and differences, and that's what will at the end help us come up with something together.
So this first step is for them to learn more about Rwanda because we have our own history of genocide as a country but which we share with Germany which also had its own genocide."
According to Kolling, "The theme of a house is a very good one because with this theme of a house you can deal with a lot of questions; what kind of material do you need to make a good house? There are a lot of questions that are not going directly to the subject of genocide, yet at the same time it's like a symbol of family. Here in Rwanda you are still lucky that the two -house and family always go together. When you speak about houses you are speaking of family. It's a little different in Germany where family only comes to mind during Christmas time, so it's also interesting to compare this or to bring it together."
She adds: "In Rwanda there are still so many people with this question -how could this happen? To explore the Rwandan story will make it easier for us to speak about our own story because now we are not speaking only about what happened in Germany, but also elsewhere in the world. It becomes easier to speak, and when you speak there is a kind of fluidness to it. To be the second generation is a lot easier. As a young girl I was always eager to hear the stories from my grandmother, but it's another thing to see the reality.
For Steffen Moor, the most glaring difference between the Rwandan and German experience is the people's attitude towards speaking about the subject:
"This speaking out in Rwanda is different than it was in Germany as far as I learnt about it. I am the second generation. I know that my grandfather was a killer but still he was my grandfather.
Here in Rwanda people try to talk about what happened to them but in Germany people kept quiet after the genocide. Also people are still living next door to each and meeting on the roads, but in Germany the people that survived fled to some other places, so there were not so many people in Germany who could talk about what had happened to them."
In January a team of Rwandan theater practitioners will also travel to Hamm in Germany where HELIOS is based to also do this research, start to look at the script of the play, do some rehearsals, and then in March they will return to Rwanda to continue with rehearsals and to eventually premiere the play in September.
Promotion Award by the Land of North Rhine-Westfalia
At Westwind festival, the North Rhine-Westfalian theatre meeting for young audiences, "Our House" was awarded as one of the three most outstanding performances.
The laudatio reads:
"How can the unspeakable, the painful be put in words? The team behind "Our House" places the metaphor of the house at the beginning and in the centre of all stories. This is as simple as it is captivating. The way the hand movements of the performers from Rwanda and Germany interlock and complement each other and the way they are, in their consistency, renegotiated again and again as the players build a house on the stage is reflected in their stories and memories. They tell stories of houses from Rwanda, Burundi, Kazakhstan and Germany. The stories of those houses and their inhabitants are, at the same time, lived history. The structure of the play resembles a game set-up that keeps changing its rules and takes pleasure in questioning them. Is this my story or yours? How do memories change in the moment when I share them with another person, who then creates links to his or her own memories and connotations? The production excels through its formal consistency, its rich imagery, and last but not least its performers who make the courageous decision to reveal something about themselves, thus opening up to each other and to the audience - entirely without any pathos or pointing fingers. Thus, space is created for exchange and encounters. A society that doesn't want to shut others out, that considers contrasts and changes to be a chance needs projects such as this."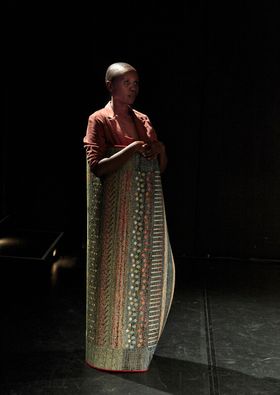 Funded by